Netflix premieres 'Watch Beyond the Stars: Photographing a Black Hole' with the participation of the IFT
Netflix premieres 'Watch Beyond the Stars: Photographing a Black Hole' with the participation of the IFT
By
comunicacion
/ August 11, 2022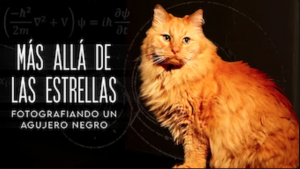 After its premiere in May 2021, the film Watch Beyond the Stars: Photographing a Black Hole was released this week on Netflix.
Featuring several IFT scientists, the documentary aims to be a faithful portrait of the Spanish scientific community, including the team that took the first black hole photograph ever.
Watch Beyond the Stars: Photographing a Black Hole GGY Audiovisual Projects is producing it as written and directed by Gonzalo Gurrea, with the collaboration of the Sapanish National Council for Scientific Research (CSIC), the Institute for Theoretical Physics UAM-CSIC, the Institute of Astrophysics at Andalucía, the Institute of Radioastronomie Millimétrique (IRAM 30m Telescope), the Autonomous University of Madrid (UAM), and the Ramón Areces Foundation.
IFT is pleased that the documentary can reach a broader audience through this platform.
Summary:
The first image of a black hole was captured on April 10, 2019, one of the most important scientific events of the century. The film engages in a conversation with the community of the most prestigious physicists in our country, including several of those who were involved in obtaining the image, and examines their personal motivations with the aim of answering the big questions that human beings still ask.
You can watch the film on Netflix here.
pie de foto: 

'Watch Beyond the Stars: Photographing a Black Hole'